Children have a right to safe, healthy, and happy upbringings. As parents, caretakers, and responsible citizens, it is our responsibility to work towards providing this for all of our nation's children. Unfortunately, it is all too easy for a defenseless child to fall victim to the negligence, recklessness, or malice of others. When preventable injuries befall our precious children, it is only right that we demand and fight for justice.
Nationally-recognized child injury attorney Jeffrey Killino works hard to protect the rights of hurt or neglected children across the country. Our experienced attorneys, paralegals, and investigators all share the goal of helping injured families win the compensation they need and the justice they deserve. If your child has been hurt in a preventable accident caused by negligence, call us today at 877-875-2927.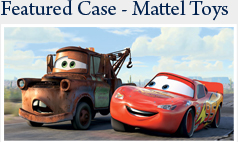 Jeffrey Killino filed a lawsuit to compel Mattel to pay for the testing of children across the country who might have been lead poisoned by 1.5 million toxic toys. Click here to learn more about the case.

Standing up for Children Nationwide
There is simply no excuse for negligent or abusive actions that cause injury to innocent children. Whether your child has suffered because of a toxic toy, a careless teacher, or an irresponsible corporation, you have a right to hold the guilty party responsible in a court of law – but you don't have to do it alone. Contact us today to learn how we can fight for you.
About Jeffrey Killino
Child injury attorney Jeffrey Killino has dedicated his practice to representing injured children and their families. He has appeared on numerous major news channels, including CNN, Fox News, and ABC, in connection with his efforts to hold Mattel responsible for selling some 1.5 million lead-contaminated toys manufactured in China.
Contact Us
If your child has been hurt by a defective product or negligent institution, contact child injury lawyer Jeffrey Killino at 877-875-2927 to learn about your legal rights and options.